Really Good Crepes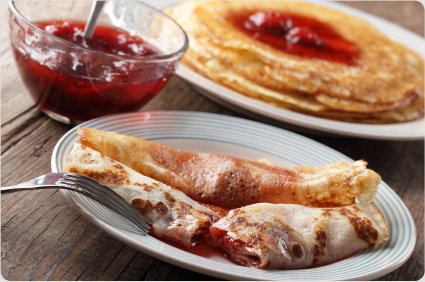 Ingredients:
2 CUPS - unbleached all-purpose flour
1-1/2 CUPS - 2% Milk
3 - Large Eggs
2 TBSP - Sugar
1/2 TSP - Salt
Butter
Instructions:
Combine ingredients. Whisk together. Batter should have the consistency of a thick heavy cream (use more or less milk as necessary). Add about a 1/2 teaspoon of butter to a hot 10" frypan, (I prefer stainless steel or Calphalon) add a ladle of batter to hot frypan. Tilt the frypan with a circular motion so that the batter coats the frypan evenly. Cook until the bottom of crepe becomes light brown. Loosen crepe with spatula, turn crepe over and cook other side until light brown. Place onto plate. Spread on your favorite Really Good fruit spread. Roll up or fold and serve warm.